Operations
Easily track all parking customers using the netPark Mobile Point of Sale.  Attendants can easily process customers with a credit card or cash payment.  One time use validations are also available
eClaim Check
Simply collect the mobile phone number via the netPark Mobile Valet System and automatically text an eclaim check.  When ready, customers can request their vehicle with one click  
Reporting
Track and audit every parking transaction with netPark's complete suite of accounting and operational reports.  From the front lines to the back office, let netPark's robust reporting improve your operations
VALET PARKING OPERATIONS
Valet operations. Anytime. Anywhere.  All it takes is an iPhone & Lineo Pro Case with barcode scanner and credit card reader and you're up and running!
Ticket Control
Create, modify and cash out parking tickets directly from the app
Flexible System
Flexibility is key and the MVS App can be configured to fit virtually any parking operation
Damage Tracking
Integrated damage tracking with the option of taking and uploading photos directly to netPark
On-Demand Scanning
The Infinite Peripheral Scanner allows for the scanning of standard barcodes and mobile devices including tickets, validations, reservations and even vehicle VINs
Encrypted Magstripe Reader
The Infinite Peripheral Scanner includes an Encrypted Magstripe Reader, so you and your customers know their card holder data is safe
Bluetooth Printer
The optional Epson Bluetooth Printer allows users out in the field to print receipts on-demand; WiFi option also available
Scalable Pricing
With our scalable pricing system based on total ticket transactions, you know you're only paying for what your location uses
E-VALIDATION SYSTEM
On-demand bar coded vouchers for customer parking validation.  Quickly print or text validations to customers for redemption at the point of sale or gated exit.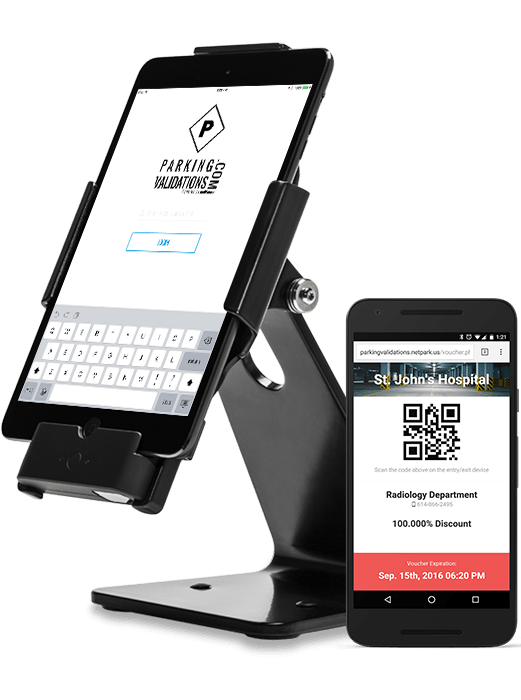 Issue On-Demand Vouchers
No need to prepare parking vouchers ahead of time, simply select the the voucher you want to send and issue it instantly
Text, Email or Print
You can always select the best option with the ability to send parking vouchers to the customer via email, text message or traditional printing
VALIDATE TICKET-IN-HAND
Validate the customer's ticket directly from within the E-Validation System, allowing the customer to simply scan their ticket and exit
VALIDATE BY PERCENTAGES, DAYS OR TIME-FRAME
Support for percentage based discounts, dollar and day amount coupons and standard time-based validations
ONE-TIME USE & TIME SENSITIVE
All of the parking vouchers issued from the E-Validation System are one-time use and can have expirations dates set on the voucher
USAGE REPORTING
Generate usage reports directly from within your netPark location on all of your voucher groups with a few clicks
ELIMINATE PAPER WASTE
Convert customers over to the E-Validation System to reduce your paper footprint and provide exceptional convenience to your customers
CUSTOMER SURVEY MODULE
Automatically send your customers a link to take a survey immediately following a parking transaction via text or email
Web Portal
Using netPark's cloud based PARCS system allows you to easily create custom surveys to provide to your customers
Customizable
Easily create custom survey questions to gain valuable feedback from your customer's experience
Automatic Sending of Surveys
You can automatically send customer surveys after each parking transaction.  You can even send a survey after the initial park and one following the close of the transaction.
Advanced Graphical User Interface
netPark's cloud based PARCS allows you to easily identify your top performers and those that need a little extra coaching
Restaurant Parking Technology Information
To obtain more information or to schedule a call please complete the form below and a member of our sales team will contact you within one business day
–netPark is currently only available in the United States and Canada–