WEBSITE DESIGN & INTEGRATION
Design. Reservations. Customers. netPark has you covered.
ENGAGING DESIGN
The latest in responsive web design and enhanced brand recognition allows your website to stand out from your competitors while offering your customers the latest in web technologies.
TECHNICAL EXPERTISE
Our in-house website solutions are backed by on-site developers, not outsourced companies. With 24/7 Emergency Support, you can rest easy, because netPark is here to help.
ADVANCED SECURITY
PCI-DSS Level 1 Compliance and our Secured Web Hosting give peace of mind, so you and your customers know that your website is protected with the highest level of web security available.
RESERVATION MODULES
Allow customers to get quotes, reserve parking and prepay for reservations without ever leaving your website
Book, Modify & Cancel Reservations
Customers will be able to book new reservations, modify existing reservations and cancel their reservations, directly from the website
Prepay Reservations
Our flexible prepay options allow you to collect: no prepay, a small fee or full prepayment
Real-Time Quotes
Direct integration with netPark allows customers to pull real-time quote information: Price changes and black-out dates appear in real-time
Advanced Analytics
Quickly integrate Google Analytics and Conversion Codes within your website: No code required
Printable Reservation Voucher
Reservation vouchers are emailed directly to the customer and are individually barcoded, allowing for easy scanning at the location or on self-park devices
Promotional Marketing Tools
Create special discounts and corporate landing pages that can be directly accessed by customers
Secured Hosting Available
netPark offers PCI-DSS Level 1 secure web hosting for your web site
LOYALTY CUSTOMER MODULES
Allow customers to view/edit their profile, print past receipts/reservations and receive special rates and discounts
Web Portal
Customers will have 24/7 access to their customer profile, allowing them to sign up and maintain: account details, vehicles and stored credit cards
Earn Frequent Parker Points
Our flexible reward system allows customer to earn points everytime they park that can be redeemed for free days
Assign Special Discounts & Rates
Assign special discounts and rates directly to customer profiles, giving customers real-time discounts when they log in to their account
Sign-up Bonus
Give customers a bump in their frequent parker points when signing up for a new account
View Past Receipts & Reservations
Customers can view their previous receipts and reservations, as well as email copies to themselves
Recurring Billing Invoices
If using netParks Recurring Billing System, customers will be able to see their recurring billing invoices from their account
Encrypted Passwords
Our customer modules automatically encrypt customers' passwords for maximum security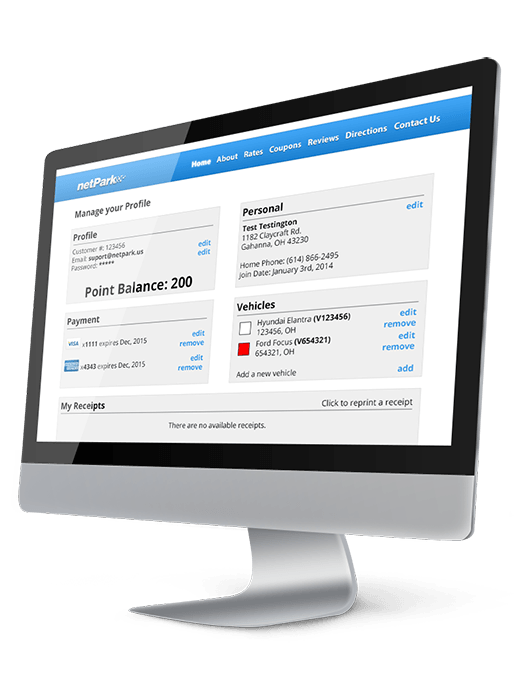 Need more information?
For any questions, comments or to schedule a consultation, please contact us today!