THE PREMIER OFF AIRPORT PARKING SOFTWARE
WHY USE NETPARK? – Originally created for off airport parking operations, netPark continues to be the leader in off airport parking software with over 160 off airport Installations serving 55 major airports.  netPark makes it easy to transition between systems with no downtime, an intuitive UI, integrated reservations, customer loyalty programs, unlimited online training & setup, and powerful reporting. Scale-able pricing fits your budget, no matter the size of your lot.
Full Featured Off Airport Parking System
netPark's point-of-sale & revenue control system has been providing off airport operators with the tools to run their business for more than 18 years.
ADVANCED RESERVATION PLATFORM
netPark can provide you with your own eCommerce ready reservation platform and provides integration with over 40 Third-Party Sources.
INTEGRATED LOYALTY PROGRAM
Providing your customers with an online interface to manage their account and the ability to earn points redeemable for free parking or services.
SCALE-ABLE PRICING MODEL
Low upfront costs, and affordable monthly fees. Monthly rates start as low as $250 per month. netPark can fit into any operation, regardless of budget.
SERVING OWNER-OPERATORS & LEADING PARKING MANAGEMENT COMPANIES
With clients in 55 major airports in the United States & Canada, netPark provides off airport solutions and technology to valet, self-park and hybrid facilities with revenue control, websites and mobile apps.
Average Number of Reservations Booked Daily
Average Number of Tickets Processed Daily
Average Number of New Customer Accounts per Month
netPark Hosted E-Commerce Reservation & Loyalty Websites
OFF AIRPORT PARKING SOFTWARE & TECHNOLOGY
The Parking Industry Leader in Cloud Based Technology for Off Airport and Airport Parking Operations
Cloud Based PARCS Software
netPark was the first cloud based parking system and continues to set the standard for cloud based technology in the parking industry. Utilizing industry best services such as Amazon Web Services (AWS) for redundancy, scale-ability and the most advanced security practices available.
Valet, Self-Park & Monthly Parking
netPark provides parking solutions for all parking environments, both stationary and mobile
Integrated Ticket & Payment Processing
Our flexible rate & calculation system provides support for all parking types and with integrated payment processing, payments are processed directly within the system
Reporting & Metrics
netPark provides you real-time reporting with over 250 reports, exportable as both PDF and Excel formats, so you immediately have the data you need to run your business
E-Parking Services
Utilize a wide range of integrated digital text solutions: E-Claim Check, Digital Reservation Vouchers, Text Ahead, E-Validations and Pay-by-Phone
Advanced Audit Controls
Monitor everything that happens at your location with real-time audit alerts and unlimited historial audit data for ticketing & revenue control
Vehicle Services
Boost revenue with our comprehensive vehicle services management system. Includes a complete valet commission system to increase sales and employee morale.
PCI-DSS Level 1 Service Provider
Utilizing state of the art data centers and security practices, you can be confident that your customer's card holder and personal data are protected by industry leading PCI-DSS compliant controls.
RESERVATION MODULES
netPark's popular reservation module allows your customers to easily and quickly reserve parking right from your website.  You can also provide a printable or texted version of the reservation voucher for easy processing at the lot.  With a short spin up time, netPark's reservation module can be integrated and ready to go in as fast a one week
Book, Modify & Cancel Reservations
Customers will be able to book new reservations, modify existing reservations and cancel their reservations, directly from the website
Prepay Reservations
Our flexible prepay options allow you to collect: no prepay, a small fee or full prepayment
Real-Time Quotes
Direct integration with netPark allows customers to pull real-time quote information: Price changes and black-out dates appear in real-time
Advanced Analytics
Quickly integrate Google Analytics and Conversion Codes within your website: No code required
Printable Reservation Voucher
Reservation vouchers are emailed and/or texted directly to the customer and are individually barcoded, allowing for easy scanning at the lot for a frictionless parking experience
Promotional Marketing Tools
Create special discounts and corporate landing pages that can be directly accessed by customers
Third-Party Integrations
netPark integrates with over 40 different third-party providers including Airport Parking Reservations, SpotHero, ParkWhiz, Way.com and Global Airport Parking
LOYALTY CUSTOMER MODULES
Allow customers to view/edit their profile, print past receipts/reservations and receive special rates and discounts
Web Portal
Customers will have 24/7 access to their customer profile, allowing them to sign up and maintain: account details, vehicles and stored credit cards
Earn Frequent Parker Points
Our flexible reward system allows customer to earn points everytime they park that can be redeemed for free days
Assign Special Discounts & Rates
Assign special discounts and rates directly to customer profiles, giving customers real-time discounts when they log in to their account
Sign-up Bonus
Give customers a bump in their frequent parker points when signing up for a new account
View Past Receipts & Reservations
Customers can view their previous receipts and reservations, as well as email copies to themselves
Recurring Billing Invoices
If using netParks Recurring Billing System, customers will be able to see their recurring billing invoices from their account
Customer Loyalty App
netPark's Customer Loyalty App provides your customers with an easy to use app for managing their entire experience at your facility. Available for Android & iOS.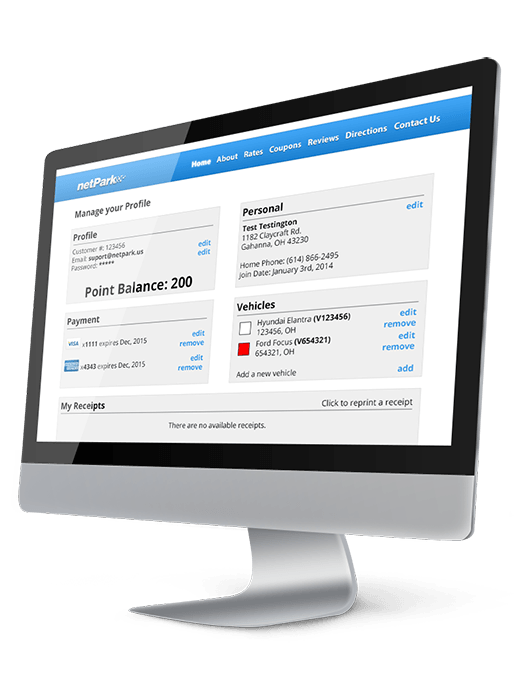 CUSTOMER SURVEY MODULES
Automatically send your customers a link to take a survey immediately following a parking transaction
Web Portal
Using netPark's cloud based PARCS system allows you to easily create custom surveys to provide to your customers
Customizable
Easily create custom survey questions to gain valuable feedback from your customer's experience
Automatic Sending of Surveys
You can automatically send customer surveys after each parking transaction.  You can even send a survey after the initial park and one following the close of the transaction.
Advanced Graphical User Interface
netPark's cloud based PARCS allows you to easily identify your top performers and those that need a little extra coaching
DAMAGE CAMERA SYSTEM
Reduce claims with automated vehicle image capturing.  You can install up to 8 HD cameras to capture every section of all vehicles that enter and exit your facility.
HD Images
Enjoy full HD vehicle images with state of the art Samsung SNO-8081R cameras
Eliminate Erroneous Claims
Configure the camera system to take images upon entry to your lot, providing vehicle images before your valets even touch the vehicle
Reduce Expense
With automated image capture, you can reduce your damaged vehicle expenses dramatically
Accessible From Anywhere
Enjoy cloud based access to your vehicle images from anywhere that you have access to your netPark account
90 Days of Image Cloud Storage
90 days of premium cloud based storage allows locations to handle even the oldest damage claims
Highly Customizable Setup
With support for 10 different cameras, per parking lane, you can configure the system to work for just about any setup
License Plate Recognition (LPR)
Want automated license plate recognition? We've got that. Designate any existing camera for use with the LPR System
VALET KEY TRACKER
Track every set of keys in and out of the key area and receive warnings for missing keys
Easy Set Up
All you need to implement the key tracker is a barcode scanner and Windows PC.  That's it!  Just place the hardware in the key area to be tracked and start scanning
Automated Missing Key Alerts
By setting the time thresholds for each key control area, you can be made aware of missing keys right away giving you ample time to locate the lost keys
Real Time Dashboard
Real time display of the status of all keys is displayed directly through the netPark System.  Easily monitor key activity and identify potential lost keys in seconds
MONITOR VALET ACTIVITY
Monitor all valet attendant activity every step of the way.  Use the built in activity reports in netPark to analyze valet activity and performance.
Unlimited Key Control Areas
Not matter how complicated your key setup, the netPark Key Tracking System can support an unlimited number of key control areas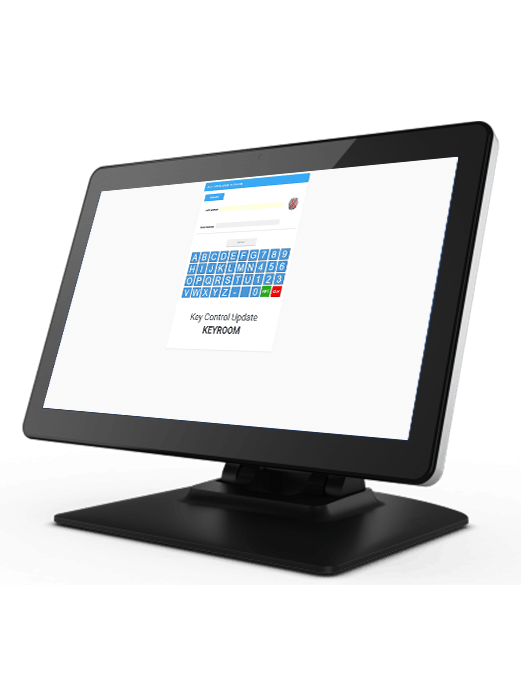 WHAT OUR CLIENTS HAVE TO SAY
Pete Carrea
Owner, Winner Airport Parking
---
I have been a partner with netPark since 2004. Since the inception of our relationship the netPark organization has provided exceptional service. We have worked together on many innovative operational additions to the netPark software. Their team is made up of professionals that not only get the job done right but provide excellent customer service along the way. I have many times and will continue to highly recommend their software to anyone in the parking industry.
Nicolle Judge
President, SkyPark
---
We have been netPark clients for over 10 years and have been very pleased with netPark's technology, customer service and responsiveness. netPark's system is simple to understand, easy to navigate and they offer great security and administrative rights. netPark releases include new offerings and tweaks to technology (many based on client feedback) that help us run our business. Their robust "wiki" system is easy to search and their videos help us understand every part of the system. netPark is quick to respond to emails and phone calls and when appropriate, flexible in adapting to our needs as a client. We appreciate having a partner in this business that strives to better our customers' experience at our facility.
Mike Moreland
Owner, Newark Airport Long Term Parking
---
We have been a netPark client since 2004. The best thing about working with them is how proactive they are. They are constantly looking for ways to improve the system and keep up with all of our needs. If we think of something new that we need to help with our service, we just give them a call call and let them know; They are usually a step ahead and already working on it! If you have a problem, there is always someone there to help; They are VERY customer friendly. I have no reason to ever look for another system.
Rick DiPietro
President, Propark America
---
Propark America's experience with the netPark platform at our airport parking facilities, nationwide, has been resoundingly positive. We are pleased with the quality of the equipment and the seamless nature in which it interfaces with our various websites and mobile apps. We've found the netPark team to be responsive to our needs and creatively anticipating what our future needs might be. The relationship we have with netPark is one that we value tremendously and look forward to growing for years to come.
Brian West
Owner, Dayton Airport Parking
---
The team at NetPark have a wonderful collection of skills: great engineering, intuitive and forward-thinking design, empathetic customer service, and most importantly: decades of parking experience.
Third Party Integrations
netPark integrates with many parking software companies to provide a broad range of reservation, texting, automation, License Plate Recognition services.



OFF AIRPORT PARKING SOLUTIONS INFORMATION
To obtain more information or to schedule a call please complete the form below and a member of our sales team will contact you within one business day
–netPark is currently only available in the United States and Canada–
Off-Airport Adwords Campaign